SADC exports the inaugural Hybrid Maize Seed produced under the Harmonized Seed Regulatory Systems
September 9, 2019 was a historic moment for seed trade in the Southern African Development Community (SADC) region. Two trucks carrying 60 metric tons of a hybrid maize seed produced following the SADC Harmonized Seed Regulatory System (HSRS) successfully crossed the Zambia-DRC borders. This may not sound like a lot, but it was the very first export of a non-genetically modified organism (GMO) hybrid maize seed easily produced in Zambia, but not in the mineral-rich the Democratic Republic of Congo (DRC).
But not all countries have the same productivity levels. What one country might efficiently produce in terms of better seed varieties is not available or affordable for farmers in a neighboring country.  As such, supply does not always meet demand.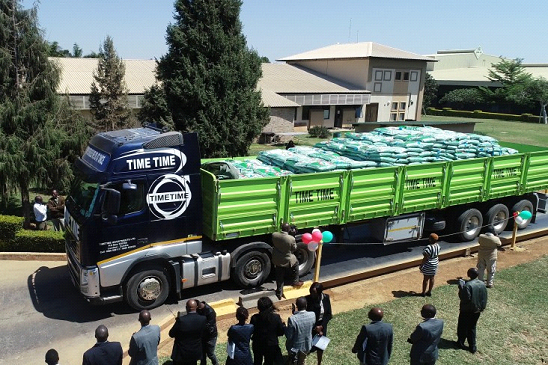 Before the 200 metric tons of seed, valued at about US$ 370,000 was ready for export, the SADC Food, Agriculture and Natural Resources (FANR), with support from USAID's Feed the Future Southern Africa Seed Trade Project (Seed Trade Project), launched a pilot project in December 2018, where Seed Co. Zambia Ltd planted three varieties (SC647, SC637, and SC719) of hybrid seed maize.
Of more importance was that the seed met the new SADC seed certification and quality-control standards aimed at simplifying trade via the SADC HSRS. The HSRS means SADC Member States will be aligned in seed standards, thus cutting down on the red tape.
Follow this link for the SADC Seed Variety Catalogue- https://sadcseedcentre.com/index.php/variety-catalog
Read more- https://www.usaid.gov/southern-africa-regional/news/seed-zambia-fields-democratic-republic-congo
https://zpba.org.zw/wp-content/uploads/2019/10/zpba_logo.png
0
0
dspadmin
https://zpba.org.zw/wp-content/uploads/2019/10/zpba_logo.png
dspadmin
2020-07-23 21:32:00
2020-08-06 21:19:32
FROM SEED IN ZAMBIA TO FIELDS IN THE DEMOCRATIC REPUBLIC OF CONGO