ZPBA Honorary Life Member
Professor Pangirayi Bernard Tongoona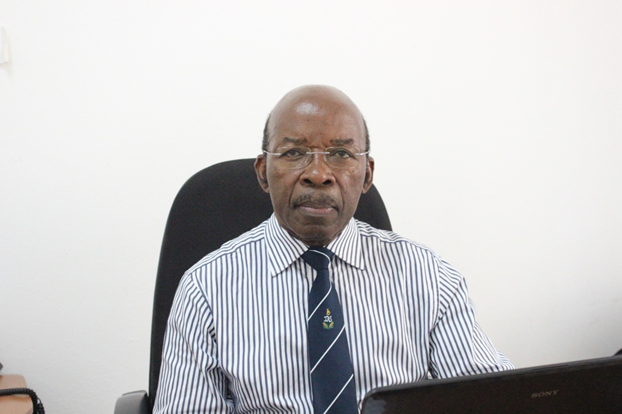 ZPBA Recognises Professor Pangirayi Bernard Tongoona (pictured above), an academic, for outstanding achievements in plant breeding training, research and leadership.
In its sitting on 22 November 2017 the ZPBA Executive Committee unanimously agreed to give Prof. Tongoona that honour of ZPBA Honorary life membership according to section 4.1.1 of the ZPBA Constitution. Let it be on record that he is the FIRST RECIPIENT of this honour. He received the honour on Thursday 25 January, 2018 at an event in his name 'The Prof Pangirayi Tongoona Symposium – from Art to Science in the Crop Seed Sector' at Harare Holiday Inn.
Presently, Prof Tongoona is a visiting Professor (Plant Breeding and Genetics) and Associate Director for Breeding Programmes at the West Africa Centre for Crop Improvement (WACCI), University of Ghana. The following narration highlights his educational background, and the outstanding achievements in plant breeding training, research and leadership.
Prof Tongoona obtained his BSc Agriculture (Honours) Crop Science, MPhil in Plant Breeding and PhD in Plant Breeding and Genetics, all at the University of Zimbabwe (UZ). To compliment his academic background and work experiences, he has been a visiting scholar at the Michigan State University, University of Botswana, Purdue University, Cornell University and Texas A&M University.
Professor Tongoona started his academic career in 1987 as a Lecturer at UZ and was subsequently promoted to Senior Lecturer in 1995. He then moved to the University of KwaZulu Natal (UKZN) in South Africa, in 2003, where he got promoted to full Professor of Plant Breeding in 2005. Upon retirement from UKZN in 2014 he moved to the current positions at WACCI, University of Ghana. He was however appointed Honorary Professor at UKZN due to high productivity in research and postgraduate supervision.
Some of the leadership positions that he has held include, but are not limited to: Deputy Dean Faculty of Agriculture (1988-1990, UZ); Chairman Department of Crop Science (1998-2002, UZ); Deputy Director, ACCI, UKZN (2003-2014); Deputy Director, WACCI, University of Ghana (2014-2016); Honorary Professor, UKZN (2014 to date); Academic Leader, Production Sciences Cluster, UKZN (2012-2014) and Associate Director, Breeding Programmes, WACCI, University of Ghana (2016 to date). He has served on numerous University Committees since the inception of his career in 1987.  Prof Tongoona's research and publications profile shows that he was able to facilitate formation of inter-institutional, inter-country, inter-continental and multi-disciplinary collaborative research teams. It is also notable that some of his students are holding leadership and influential positions in the public sector, industry and the CGIAR system.
In the area of teaching, he developed and taught several courses in basic Genetics, Quantitative Genetics, Plant Genetics and Plant Breeding both at undergraduate and postgraduate levels at the Universities of Zimbabwe, Botswana, KwaZulu-Natal, Makerere and Ghana. Postgraduate courses were only developed and taught at the Universities of KwaZulu-Natal, Makerere and Ghana. He has examined 23 MSc/MPhil dissertations and 36 PhD theses from Universities in Zimbabwe, Zambia, Tanzania, Uganda, Malawi, South Africa, India and Ghana. Professor Tongoona has also been an External Examiner for BSc Agriculture Programmes at Sokoine University of Agriculture, Tanzania and Midlands State University, Zimbabwe. He supervised 90 postgraduate students (65 PhD and 25 MSc/MPhil) who have successfully graduated. Among the graduates, one is already a full professor, while the other is an associate professor.  Currently he is supervising 20 postgraduate students from the University of Ghana and two from the UKZN. This means that he would have supervised over 100 postgraduates in the next 3-4 years when all the current students have graduated. This is indeed an incredible and rare achievement in the training of plant breeders. In addition, he has supervised more than 40 BSc Honours projects.
Professor Tongoona's research profile is equally impressive. He raised over $3.5 million in research funds on castor (Ricinus communis), wheat (Triticum aestivum), sorghum (Sorghum bicolor), pearl millet (Pennisetum typhoides) and maize (Zea mays). Castor breeding resulted in development of putative castor varieties, while wheat breeding resulted in breeding lines that were used to develop wheat varieties adapted to warm rainfed environments by Seed Co Zimbabwe. A project on genomics of Grey Leaf Spot (GLS) disease resistance in maize resulted in identification of inbred lines with Quantitative Trait Loci (QTL) for GLS resistance. While this project is still on-going at UKZN, hybrids generated from the GLS resistant lines are being tested in readiness for release. Another project on development of sorghum hybrids using male sterility is also still on-going at UKZN. Sorghum lines suitable for conversion to male sterility were identified and by 2014, some of them were at the backcross six stage.  Presently, development of maize hybrids for the West African environments is also on-going at WACCI, University of Ghana.  Three maize hybrids were released in June, 2017 from this programme. Other completed projects have focused on breeding for Striga resistance in sorghum; and breeding maize for reduced phytic acid content.  An enormous and positive impact of his contributions to plant breeding in Africa will be seen through the countless varieties emanating from breeding programmes of his graduates. The majority of the graduates have capacity to use the next generation technologies, which can be expected to increase efficiency in their breeding programmes.
Professor Tongoona authored and co-authored 94 articles in peer reviewed journals, mostly published in very high impact journals. He also authored and co-authored 34 book chapters. Some of his research findings were shared in more than 26 conference presentations. He authored a Genetics Module for the University of Distance Education in Zimbabwe. He is also a co-author of a book entitled 'The Business of Plant Breeding' where he contributed a chapter titled 'Understanding Clients in a Breeding Programme'. The book is to be launched by CABI in November at TROPAG 17 conference in Brisbane, Australia. He is a member of the African Crop Science Society, Zimbabwe Plant Breeders Association, Southern African Plant Breeders Association and a Review Editor of Frontiers in Plant Science Journal.
Nominated by Prof. John Derera & Dr Hapison Mushoriwa
About ZPBA
ZPBA is a membership-based, not-for-profit, non-political, professional association of Zimbabweans based locally or abroad active or interested in plant breeding and/or plant breeding-related fields.
Zimbabwe Plant Breeders Association
c/o AGRICULTURAL RESEARCH COUNCIL
ACFD complex, No 51283 Hatcliffe Estate, Alpes Road, Harare, ZIMBABWE
+263 784 618 719